How to Book a German Band for Oktoberfest Without Getting Caught with your Lederhosen Down
GigRoster assist countless clients with specialty cultural and niche event bands, one of the most fun styles of which is German Oktoberfest bands. Though there are a multitude of musical styles and sounds that could come to mind at the mention of "German music" - some of which is actually Scandinavian, Polish, Czech, and other European Cultures in origin - what the majority of entertainment shoppers are looking for is a high energy performance to give their Oktoberfest celebrations some oomf, or in this case the Oom Pah Pah needed to make them memorable! Since most people don't often find themselves listening to this music in their free time and may be a bit unfamiliar with the style, we've compiled some helpful tips to get you off to a perfect start finding the perfect German, Polka, or "Oom-Pah" band for your event!
Find Your Style
First things first. Narrowing down exactly what kind of band you're looking for is key! If you're booking for a brewery seeking a great band to accompany your business' Oktoberfest celebrations, then the simple answers of "German band" or "Oktoberfest band" are quite simple. These kinds of bands generally play a span of traditional & contemporary German and Bavarian styles of music meant for a party atmosphere, and can vary greatly in terms of production, instrumentation (would you like your music on accordion or electric guitar, for example), and adherence to traditions and standards. Some groups are much more authentic (like Happy Hans German Music), whereas others are essentially a modern dance band playing traditional, if not updated, German drinking songs (such as The Kalifornia Krauts or Oompoporama). Still others specialize in a more general European mix, covering many countries, but still in the upbeat polka (sometimes called Oompah) style (such as The Smilin Scandanavians). Some small scale events might even call for just a fun strolling accordionist along the lines of Mark Hamza Solo Accordion. Mark Hamza Solo Accordion All varieties offer highly skilled performers, but knowing what you want is key before making a choice.
Not all events necessarily need a band to help grease the wheels at a party time drinking event. On the flip side of such occasions, what if you are an event coordinator at an assisted living home that happens to cater to, or have, a notably high demographic of Polish residents? Just as these people may be endlessly delighted to see a visiting group playing the songs they remember from their youth, they could just as well be let down if a notably German-styled band was booked with the expectation that it would touch their heartstrings all the same. Luckily, GigRoster's experienced team of talent buyers have navigated these waters before, and are happy to guide in whatever way necessary to make sure you find the Perfect group for your event!
Photo: The Mountain Top Polka Band. Click here for more information or booking
Know your Budget
Before making almost any important purchase, a big consideration to mull over is what your reasonable budget looks like and entertainment booking is no different. Just as one could find everything from a solo performer to a full 10-piece band playing the same popular songs, Oktoberfest musicians and bands come in all shapes and sizes. Maybe your event simply couldn't do with anything but a big, loud high energy production - or maybe a solo accordionist singing traditional German songs would find itself much more comfortably placed! Just as these variables will affect the feel of your event, they will greatly vary in pricing as well. If you're looking to have a high-energy stage band to carry the momentum of the night, expect to invest in the range of $1-2000+. But what if you're looking more into the range somewhat less than $1000? There are plenty of performers that can fit into this budget, and in all likelihood it could potentially work even better to have a solo performer or small group if you're working in a more mellow or small scale environment. Whatever the budget and planning details are for your event, just be honest and clear with yourself on what you're willing to spend, then find the best options within that range! Your GigRoster consultant can help you in a variety of price ranges, so just ask us for help if you're not sure which bands will exceed your expectations without exceeding your spending limit, or fall flatter than last year's Hefeweizen.
Photo: Dick Coolen's Oktoberfest Band. Click here for more information or booking
Don't Wait Until Autumn or You May Fall Short!
For virtually any kind of performer, special events will generally get booked out a few months in advance minimum, often times more. For weekends, this can start to run into 3-6 months easily. Take this standard and then apply it to a specialty band for a seasonal event that only happens once a year, and you start to get the point that Oktoberfest bands can really end up being a hot commodity! Granted that there is often a 3-4 week window that Oktoberfest events can occur within, but the relatively small number of bands playing in these specialty styles still leaves little room to dally if you don't want to get stuck with bottom of the beer barrel performance groups, if anything at all. If you only plan a small number of events a year, thinking 6 months into the future really shouldn't be much of a stretch, if not even further if you're hoping to lock in a top-rate band. Even if it's just initial planning, it never hurts to reach out to a few bands you're interested in and see what their schedule is looking like. Remember, you're not locked into anything until a booking agreement is signed so there's no need to feel skittish about looking into a band's availability and doing your homework on price and availability.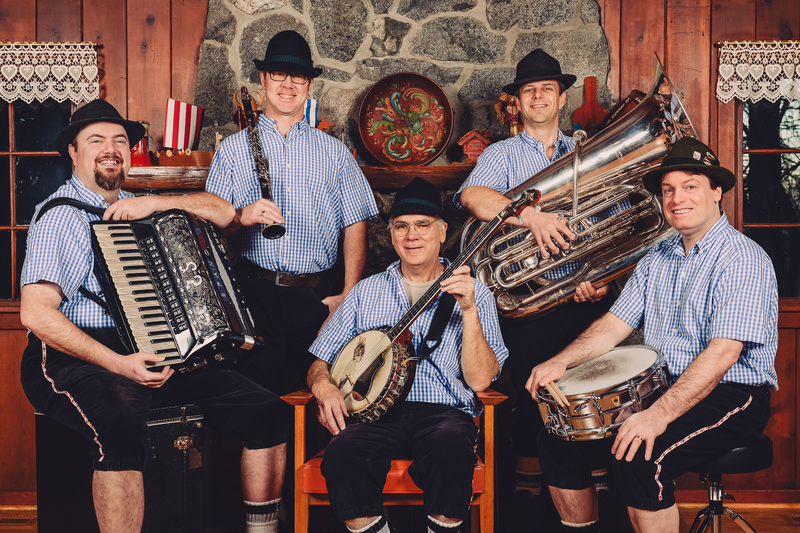 Photo: The Smilin' Scandinavians. Click here for more information or booking
Once these points have been considered, you're well on your way to knowing just what you need to do to get your Oktoberfest music booked. Your GigRoster talent consultant is always ready and on hand to help you out with any questions you may have towards getting the music booked for your event, so shoot us a line and let's get the ball rolling now on your perfect Oktoberfest. You'll have your hands full acquiring kegs and several dozen orders of lederhosen, so leave the entertainment to us!
Subscribe to GigBlogster™
Get the latest posts delivered right to your inbox