GigRoster's NACA/APCA Exclusive Performers
Alongside thousands of performers across the USA that we represent, GigRoster.com offers a line-up of top-tier, curated acts available exclusively to NACA & APCA member colleges and universities. Listed below are some of our best performers that are available within the NACA & APCA systems, click on any listing to see their complete GigRoster profile and make sure to reach out if you're interested in featuring any of them at any events or shows this year or next!
The Cougrzz are a high energy, all live, dance band whose talent and fun loving appeal has set a new standard in Corporate Entertainment. Specializing in today's Top 40 dance music, latin, R&B, hip hop, classic rock favorites, and performing a wide range of classic dance standards, The Cougrzz will keep the dance floor packed from start to finish.
Seattle's Most Fun Outlaw Country-Disco Band that plays the Disco Era Hits Cowboy style. Take one part Bee-Gees, one part Hank Williams and you get the outrageously fun troupe, the Disco Cowboys! Throw on your favorite cowboy hat, side into an old pair of boots, grab a dancin' partner and giddyap to see the Disco Cowboys!
Femme Halen is the hottest all-female tribute to the early years of Van Halen. Femme Halen captures the essence of Van Halen's legacy as the most entertaining, ground breaking band of the their time.
Good Co. plays swing, hot jazz, and electro swing and a variety of rock, latin and pop to turn any night into a dance party but are equally at home performing standards to create the perfect atmosphere for any event. Good Co. has performed all over the US, Canada, and Europe for music festivals, conventions, burlesque performances, and anywhere else they can sneak in. They've been the featured performer for The Smithsonian and for The Seattle Symphony. You can hear Good Co's music on the radio and on label compilations in the US, Canada, Europe, and China as well as in film and advertisements.
Hollywood Blondie is a fun and exciting Tribute to Blondie!  Hollywood Blondie puts on a rockin', energetic show and are a blast to watch and hear as they play the absolute best of Blondie while channeling the vibe and look of the original! Vocalist, Diana Grace, captures the audience with her voice, performance and energy, and the band's musicians are exceptional and entertaining, making every show an event to remember!
Blending Trinidadian calypso classics, modern soca, and jazz-oriented originals, Lord Shambleton is the best blend of the possibilities presented by Steel Pan music. With hours of repertoire available and decades of shared musical expertise, Lord Shambleton can orient their sound towards any event that desires the sweet sound of steel pan.
Megs McLean and her band are a dynamic group of 5 full-time professional musicians that deliver an energetic mix of guitar-driven "Crunge" (Country, Rock, Grunge) originals.  A little something for everyone and if appropriate, they know how to keep it family friendly. Their extended sets include Megs' signature originals and covers of new country, rock, and pop.
Miles from Chicago is a high-energy dance band that knows how to have fun! Stacked with some of the most talented musicians from the Seattle area, the group plays a classy, unique variety of energetic dance songs, including blues, soul, R&B, rock and classics made and specifically selected for dancing.
Pulp Vixen - The nostalgia of the 90's is back in this tribute to an eclectic decade of music. Enjoy the angst of Alanis Morisette to the grung era of Nirvana, Alice in Chains and Pearl Jam. Remember the East Coast/West Coast rap wars, hip hop and the alternative heavy hitters like No Doubt and The Foo Fighters? What about the mainstream pop from Britney and the boy-band takeover? Take a step back into the disillusionment and enthusiasm of an era with Pulp Vixen.
Chicago Tribute Experience brings you back to the 60's, 70's and 80's with recreations of all of Chicago's greatest hits performed live by some of the world's finest musicians. This tremendous tribute to the writing, performance, style and sound of the original lineup has been carefully and thoughtfully re-created for the highest entertainment value. Enjoy the journey as they take you on the "Experience"… the Chicago Tribute Experience.
The Olson Bros Band burst onto the country music scene in 2013 winning the Lake Fair Battle of the Bands and a national country songwriting contest with their song Sunrise which earned them a trip to Nashville, where they where introduced at The Grand Ol' Opry. This songwriting band of literal brothers has garnered significant attention and airtime from their unique yet classic country style, with clear upward success in their coming future.
Based in the LA region of southern California, Totally Go-Go's is the only all-female tribute to the Go-Go's anywhere! Totally Go-Go's pays homage to the Go-Go's legacy as the first all-girl band to top the Billboard charts. Totally Go-Go's captures the essence of the exuberance and worry free decade of the 80's. These five ladies play a fun, 80's era, high-energy show, perfect for Casinos, Summer Concert Series, Festivals, Fairs and Corporate Events!
Stevie Nicks Illusion, A Tribute to Stevie Nicks and Fleetwood Mac, is one of the most authentic sounding tributes to Stevie Nicks to date. The band consists of world class musicians and the vocals of Diana Grace are spot on as Stevie Nicks from the early years of the 70's and 80's. The shows are exciting as well as intimate, as they connect with the audience and engage with them in what can only be described as a magical shared musical experience.
When you are looking for the best string quartet or trio, the Style Strings to provide you with beautiful, charming music to add that touch of class and elegance to your event! The Style Strings are a group of highly skilled and experienced local musicians and we're confident that you will be delighted with the quality of our music and professionalism. When you reserve the Style Strings for your event, you know you'll be booking a string quartet or trio that will have the experience and talent to make your event extraordinary!
Featuring a variety of jazz, swing and much more, the Roadstars Jazz Band is a mix of music from the early twentieth century until now. A popular choice at events where quality music is a must and the audience will not settle for second best, the band has become a tradition at such events as the Seattle Mariners home games, The Puyallup Washington State Fair and The Evergreen State Fair. There is simply no other band like it on the West Coast, presenting an experience in the traditional music of America from classic to current jazz.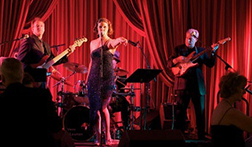 If you're looking for the premier dance band, a band with a big sound and a great show, then the Live! Band is just that! When you want a band that is exciting, fun to watch and a blast to dance to, you need to make sure it is Live! We know what it takes to make an event a success and we have a package that will fit whatever you are looking for. Super premium entertainment at a price designed to fit your budget!
Interested in even more talent options?  Simply visit GigRoster.com for over 4000 acts available to NACA & APCA member schools!
Subscribe to GigBlogster™
Get the latest posts delivered right to your inbox